You are here
News & Events
Top Stories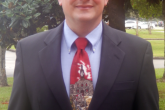 June 18th, 2019
Chris DeGuelle is the newest member of the NIMSAT Team. He provides strategic and real-world experience in disaster...
Read More ➝
June 10th, 2019
Register for the 8th Annual Building Resilience through Private-Public Partnerships Conference We invite you to attend...
Read More ➝
April 15th, 2019
The National Hurricane Conference is April 22 - April 25, 2019 in New Orleans, LA at the Hilton Riverside. You can...
Read More ➝
View All News
Upcoming Events